Before images include the oak kitchen, sunken family room, oak master bathroom, and the back side of the house.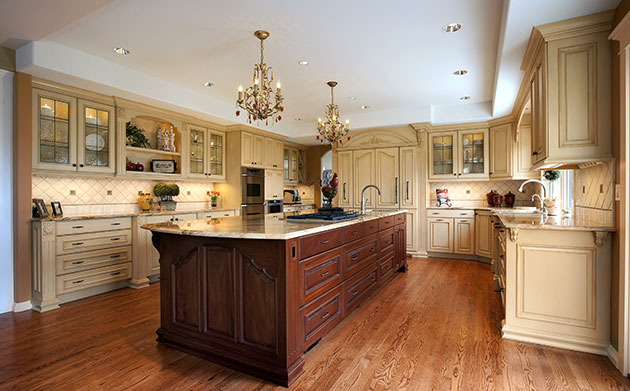 The remodeled kitchen features new cabinets, granite counters, and new lighting.
The sunken floor in the family room was filled, allowing for a larger room with a new fireplace centered on the wall.
The old master bath was completely gutted and expanded to include a luxurious new tub, shower, and fireplace.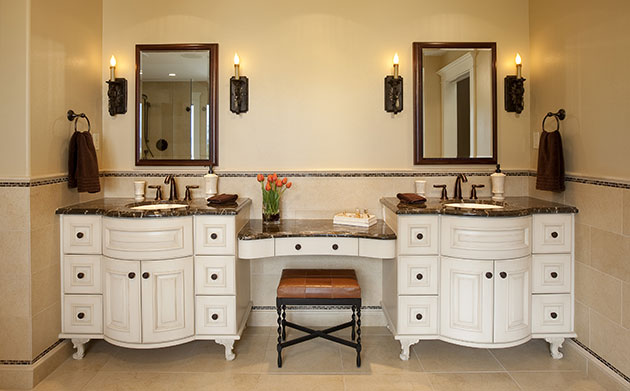 Dual vanities in the master bath complement new lighting and extensive new tile.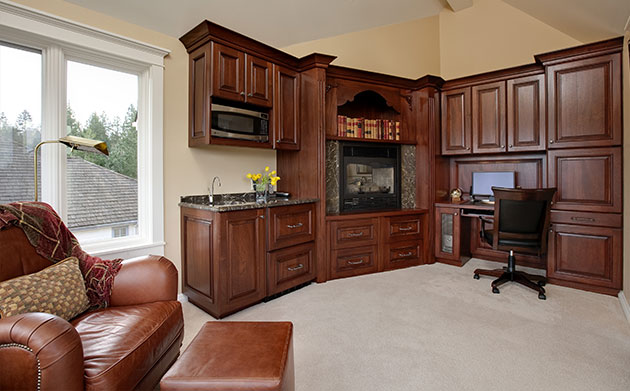 A new sitting area and den was provided adjacent the master bedroom, and includes a fireplace and coffee bar.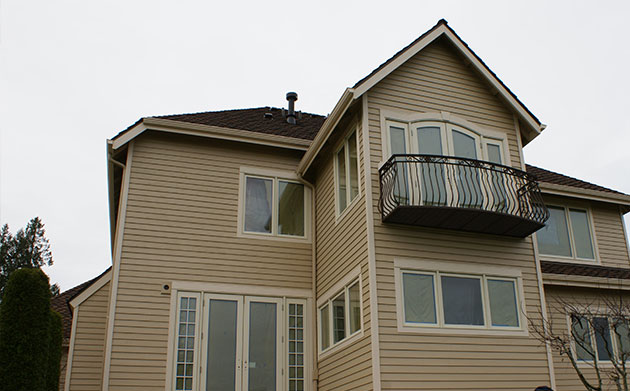 A new balcony was added off the new master bedroom seating area, and a new deck off the main floor.
Redmond Residence Remodel
This award-winning project was a major remodel to a vintage 1990s view home in Redmond, Washington. Although the total floor area was over 3,000 square feet, the layout of the living spaces made the home feel much smaller. On the main floor, the family room with a brick fireplace was expanded by filling-in the sunken floor and adding the adjacent laundry room floor area. A new fireplace replaced the old one, along with new windows, French doors, and extensive millwork. The original kitchen was completely gutted and now features new cabinets, granite counters, an intricate tile backsplash, new lighting, and new banquette seating in the adjacent nook. An old garden window was removed and replaced with a larger unit to better enjoy the breathtaking mountain views.
Upstairs, the master suite expanded into an adjoining spare bedroom, allowing for a completely reconfigured layout that includes a large walk-in closet, luxurious soaking tub with adjoining fireplace and tile shower, custom dual vanities, and a new den/sitting area off the master bedroom, complete with built-in cabinetry, fireplace, coffee bar, and Juliet balcony.
The project required a minor addition and new deck off the back of the house, carefully configured to fit with the existing rooflines and building massing to provide a harmonious and consistent aesthetic.